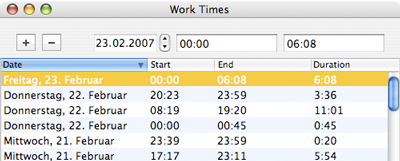 When I wrote my Diplom Thesis (Master's Thesis) I needed something to track how much time I spent on it each week. Well, what better excuse to play a bit with core-data and cocoa-bindings. :)
In the app you can add new times (the + button). It's pre-filled to the current time, but you can always insert the current time with . You can also always adjust the previous entries by selecting them down in the backlog and adjusting the values.
Also note the neat weekly summary available in the Window Menu (or via ).
[source:open-source/worktimer browse source]